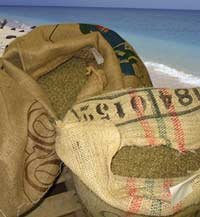 Bean Selection
Shipwreck Coffee roasts only the world's finest Arabica coffee beans and adheres to stringent evaluation protocols. In general, Arabica coffee beans are grown in the tropics, near the equator, at altitudes between 4,000 and 6,000 feet.
The finest Arabica coffees are defect-free, slow grown for flavor, hand -picked when perfectly ripe and typically cultivated by small farmer co-ops. It is important to note that all Arabica coffees are not equal. To insure that Shipwreck only roasts the finest world renowned beans, each bag of green coffee must pass through our quality process.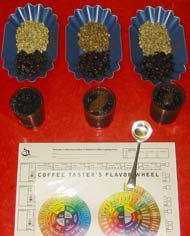 Our Coffee Importer's Evaluation
Our coffee importer shares our high quality standards when providing the initial evaluation.
-visual inspection of green coffee sample.
-Coffee cupping (flavor testing) is performed
-The bean's country of origin and individual farm/co-op is traced and verified.
-After satisfactory completion of these tests, Shipwreck Coffee accepts these beans.
Only after successfully passing through each and every stage of testing, is the green Arabica coffee approved for use by the Shipwreck Roast master.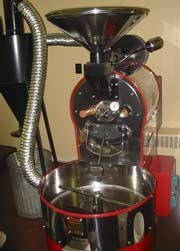 The Roasting Process
While starting with only the highest quality green coffee beans is mandatory, the Roast master must utilize unique skill and artistic talents to roast each batch of coffee to its peak flavor. Through another coffee cupping process, the optimum roast profile is determined by the Roast master for each individual coffee.
This roast profile serves as a map, which helps to identify how to best develop a truly unique coffee. At Shipwreck Coffee, the Roast master creates a true passion for coffee by:
-Staying focused on small batch roasting.
-Expertly identifying the optimum roast profile for each coffee.
-Artistically crafting the roast process to capture the desired profile.
-Understanding how to best achieve flavor objectives.
A Word About Taste
The world of small batch speciality coffee roasting is entirely different than the large institutionalized coffee roasters. At Shipwreck Coffee, we create a true passion for coffee by focusing on each bean's unique flavor attributes and bringing those to your palate. Tasting of fine coffees is an art unto itself, and with practice, one can begin to identify nuances of each coffee - the origin, the plant type, the harvesting conditions and even the care and attention of the farming family. The Shipwreck coffees are designed to help you enjoy this tasting journey.

Begin your journey now by ordering some freshly roasted Shipwreck Coffee